Social innovations are entrepreneurial and technological practices that aim to meet social needs and vulnerabilities in a better way than existing solutions. By imagining new socio-economic models, putting technology at the service of social good and transforming the way we work together, innovation can help us adapt and move towards a more sustainable, inclusive and resilient society. On the frontline of crisis response and emerging social vulnerabilities, the International Red Cross Red Crescent Movement has always been at the leading edge of social innovation. From the creation of national relief societies to the neutral role of health care workers in conflict zones and the development of the International Humanitarian Law (IHL) through the Geneva Conventions, the International Red Cross Red Crescent Movement has constantly explored new ways of fulfilling its mission.
But innovation is not a mantra. And social organisations should not innovate for the sake of it. For social organisations, innovation is about improving and challenging current practices in order to better serve the people we are all working for. Initiated by the French Red Cross and the Spanish Red Cross, Red Social Innovation is an international network that promotes social innovations developed within and beyond the International Red Cross Red Crescent Movement with the objective of fostering the exchange of good practices between different countries and National Societies.
This publication highlights a variety of projects featured on Red Social Innovation, representing a collaborative approach in response to the world's most pressing issues. Divided into four categories — Working together, Socio-economic models, Tech as tool and Impact Partners —, this selection reveals different models of innovation which have been identified across the Movement. In this publication, you will discover the countless ways in which innovation can be implemented: the creation of a FabLab ecosystem in rural Kenya by the Kenya Red Cross Society, the development of social businesses in Eastern Europe by the Austrian Red Cross, or the creation of an hospital by the Japanese Red Cross conceived as an innovation hub open to partnership with private groups and academic institutions. These models represent different points of entry into innovation which can guide us in the social and humanitarian sector and inspire us for the future.
This publication is also a call to every member of the Movement — senior leaders, volunteers and employees — to continue challenging the status quo and constantly test new ideas in the complex and diverse environments we work in. Explore and join Red Social Innovation!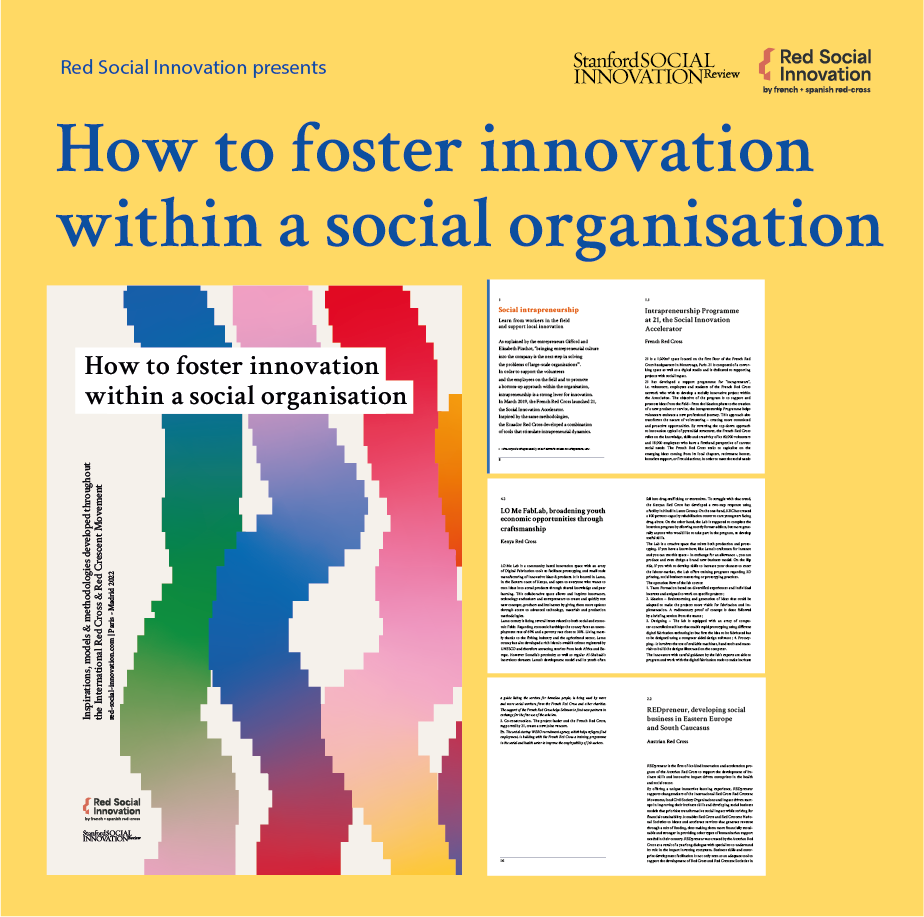 How to foster innovation within a social organisation
Inspirations, models & methodologies developed throughout the International Red Cross & Red Crescent Movement red-social-innovation.com | Paris – Madrid 2022