Description
The "Shared Bike for Sustainable Transportation" is a small-scale community project which was suggested by members of the community of Osmaniye city, Turkey. It has been implemented jointly with Osmaniye Turkish Red Crescent (TRC) Community Center, a local university as well as youth and sports provincial directorate in Osmaniye city within the east of Mediterranean region in Turkey.
Context
The Turkish Red Crescent has undergone for several years a profound transformation in order to increase the impact of its humanitarian actions. After the launch of its strategic plan in 2021, the Turkish Red Crescent decided to attribute great importance to community-based approaches and sustainability for its humanitarian and development efforts; especially on disaster management, transformation of health services and climate crises.
Osmaniye is a small province in East Mediterranean region of Turkey. TRC Osmaniye local is a small but very active branch of the Turkish Red Crescent. Osmaniye is also the first community center built with the community-based sustainability approach. Economic, environmental sustainability and social inclusion are mainstreamed at Osmaniye Community center's work as these are the tree main components of humanitarian sustainability.  A building is also designed to utilize effective energy usage and implement waste management strategies. Vulnerable communities are part of the decision-making mechanism in community centers through advisory boards and mechanisms thematic committees which are compatible with the Sustainable Development Goals (SDGs) as well as the strategic goals of the TRC; Health, Education, No Hunger No Poverty and Climate Change committees are built by the communities.
The Turkish Red Crescent assesses the need and the capacities in the community by creating an environment where beneficiaries, TRC volunteers, civil society leaders, NGO representatives, local institutions, authorities and any other stakeholders come together.  In this scope, shared bike project is suggested by young community members to contribute solutions to local transportation problem.  Since this is a part of climate change mitigation action, community center management and committee members are willing to support the idea.
Osmaniye has a small municipality without a public transportation system. Public transportation is run by private minibus network which is expensive and its route does not cover some parts of the city, especially university and youth center areas.  Shared bike system not only increases the mobility of youth in the city but also implements the zero-emission solution to the transportation problem which is compatible with the sustainable community center approach.
Technical details & Operations
Shared Bike for Sustainable Transportation" project has three goals:
–          To create a first of its kind pilot free public transportation system within the city center which emmits no carbon.
–          Creating a pilot implementation to set an example for the municipality
–          Creating a cycling culture in Osmaniye where suitable for bike use.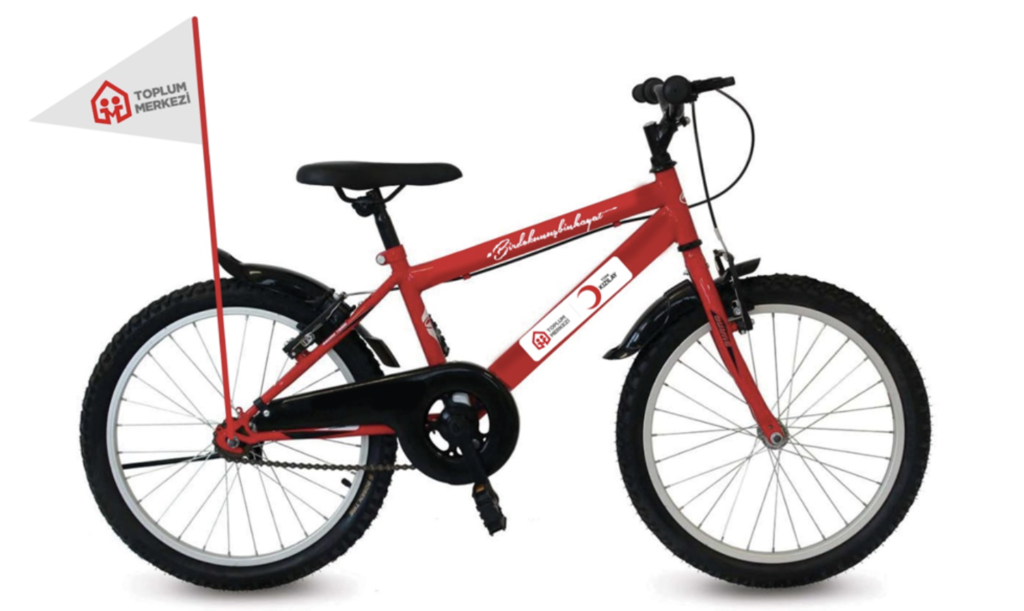 Community Based Approach and Needs Analysis
Community centers carry out their work with a community-based approach. Different focus group meetings were held in order to determine the needs of the city of Osmaniye, the needs of young people, women, children, elderly and all vulnerable groups. As a result of the focus group studies, some common needs were determined.
Shared Needs and Solutions;
1- There is a major transportation problem within the city, even the shortestroutes take a very long time due to the small number of private transportation vehicles. (Voiced by all focus groups)
2- There are not enough recreational areas for sporting activities in the city, and there is no allocated spaces for sport activities to take place in the nature (a common need of 6 different focus groups have agreed upon)
3- As a lowland flat country, Osmaniye is very suitable for cycling. Yet primary studies are needed to facilitate such a culture. (Voiced by youth and focus groups)
Based on these inferences, volunteers of Osmaniye community center has decided to work on the idea of ​​shared bicycles. With a little survey 20 unused bikes were discovered in another TRC branch. Bikes were donated by a local stakeholder. Yet, due to regional terrain cycling wasn't adopted there. Therefore, bikes were claimed and adopted by Osmaniye community center..
Shared Responsibility and Collaboration
Bikes which are now owned by Osmaniye TRC community center are mainly being used by university students and youth from the youth center as well as official dormitory institution facility. University,youth and sports provincial directorate also shared responsivity to implement a system to utilize cycling.
Climate change committee members, the Young TRC volunteers, youth and sport provincial directorate, university representatives and relevant units of the university came together and decided on principle rules and regulation for putting the bikes in use.  As a result, a borrowing and implementation model has been created.
 Bicycles will be controlled by the University and the young volunteers of Red Crescent. Youth and sport provincial directorate personnel is responsible for the follow-ups, preparing safety equipment and materials, creating the delivery form and keeping a user list book.
20 bikes distributed to:
University Parking areas in front of the library and in front of Science and Literature Faculty

Kayı Boy Girl Dormitory (6 bikes)

Osmaniye Girls Dormitory (6 bikes)

Karacaoğlan Male Dormitory (6 bikes)

Osmaniye TRC Community Center (2 bikes)
Bikes were painted in red, numbered and plates were installed. All cost for preparing the bikes and providing safety equipment is covered by the Osmaniye Korkut Ata University.
Deployment & Impact
20 bikes recently put into use of youth in the city. However a new demand raised from other community members also. Climate Change committee is now looking for new funds to expand the system and introduce the smart bike sharing system where they can also create an income generation model for the community centers. Smart bike sharing system requires software support and GPS instalments; therefore it will require more funds than before to set up the system. Osmaniye Municipality is now agreed upon to allocate funds to create cyclist roads in the city. 
Short and Long-term Benefits of the Project
 

Bicycle sharing systems improves culture of cycling in cities. It enables the citizens to travel in short distances for free of charge with zero emmision.

 

Bicycle sharing systems provides a physically active way of transportation for the citizens. Individuals who prefer bicycle transportation experience positive impact on both their mental and physical health.

 

Bike sharing systems shows that citizens perceivecycling as a sustainable transportation option. It enables cities with bike-sharing models to receive the adjectives of "green" and "innovative".

 

Creates and strengthens Osmaniye community center and TRC images in terms of environmental sustainability and zero carbon emission act.

 

Creates collaboration between different stakeholders such as university, municipality, youth and sport directorate and TRC Osmaniye Branch through community center.

 

Empowers and support the community for their own project based solutions to be implemented. It also strengthens community participation in TRC community center activities.

 

Mainstream climate change approach, where TRC staff also uses bikes for daily commute.