Description
Comunitaria is an app available on both Android and Apple devices that allows, through blockchain technology, to make donations so that people residing in marginalised neighbourhoods can access fresh products from local stores. Now, it is going to expand its reach by adding a new area of green energy to its bottom line goal.
Context
Following the pandemic, the number of people at risk of poverty and exclusion has increased exponentially. In Spain, a large number of slums are located in the Autonomous Community of Andalusia, where the Comunitaria project is being developed. The neighbourhood of Los Pajaritos, where a large part of the activity of this project takes place, is one of the poorest neighbourhoods in Seville and in Spain in general.
Comunitaria has been promoting neighbourhood commerce for two years with great success in marginalised environments thanks to the innovation that introduces digital social currencies. Now they are integrating them with the production of renewable energies in a circular economy system that reduces the risk of child malnutrition, promotes neighbourhood commerce, creates employment and local wealth, and generates cultural appropriation and greater social cohesion. This effort has been recognized and awarded by Unicef Lab and the High Commissioner against Child Poverty.
The marginal neighbourhoods are also being left out of the "green revolution". Only 1% of renewable energy installations are in neighbourhoods with an average household income of 12,000 euros or less, yet they account for more than 14% of the total population.
Technical details & Operations
Comunitaria carries out a business model based on sustainable and circular collaborative economy as a solution to mitigate, to its extent, "the circle of poverty" in marginal neighbourhoods, which occurs (considering it as a system) when the flow of resources out of the neighbourhood exceeds the flow of resources coming in.
To this end, Comunitaria  acts on three interrelated dynamics: the promotion of local trade, malnutrition due to low consumption of fresh food, and the promotion of renewable energies. 
How does the app work?
The beneficiary receives a balance in his/her Comunitaria electronic wallet,

The beneficiary chooses the store where he/she wants to make purchases,

Enter the required amount and select the green "Send" button.
It is available in English, German, Spanish, French, Indonesian, Italian, Korean, Burmese, Dutch, Portuguese, Russian, Serbian, Thai, Tagalog and Chinese.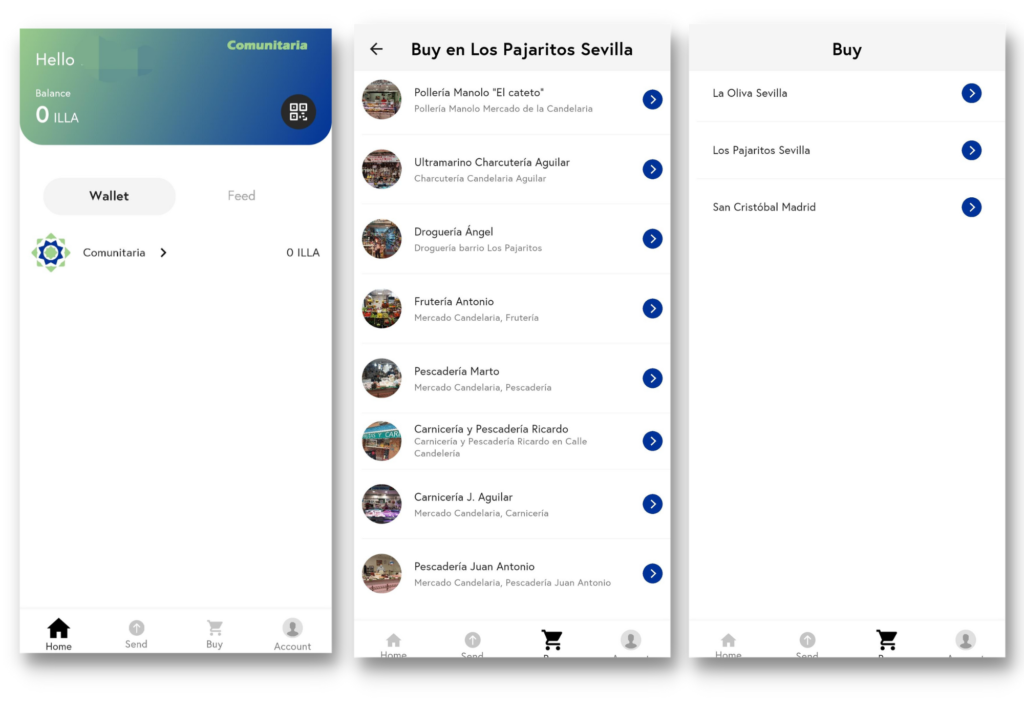 To achieve these goals, Comunitaria is developing three complementary programs:
DONATIONS OF FRESH FOOD FROM LOCAL COMMERCE.
Objective of the first program: usually, food aid for families in marginal neighbourhoods is channelled through prepaid cards from large supermarkets (which seriously harm local commerce), food banks (which do not provide fresh food), or through paper food vouchers (costly and difficult to manage).
Comunitaria uses a local digital social currency as an alternative to these donation systems. By distributing aid in this way, it can only be spent in local commerce, is transparent, traceable and saves costs and management time.
UTILISATION OF SOLAR ENERGY FOR THE PROCUREMENT OF FRESH FOOD FROM THE NEIGHBORHOOD TRADE (Roofs that feed).
Objective of the second program: shared solar self-consumption allows the sale of energy between generators (owners of a solar installation) and consumers within a radius of 2000 metres. Comunitaria promotes that local businesses that adhere to the use of the digital social currency can purchase solar energy by partially paying for their consumption with it. Producers get buyers and businesses (buyers) pay for their electricity with the products they sell, thus saving costs and increasing their clientele.
CULTURAL INTEGRATION OF THE ILLAS (the social digital currency).
Social currencies increase social capital and the feeling of belonging to the community, we know from experience the importance of the cultural link necessary for them to be truly transformative. From the "virtual" to the "physical": the ILLA currency is a blockchain-based digital currency that lives in the cell phone, but thanks to the work of local artists, it has also been converted into physical coins and banknotes that are used in cultural events such as the Seville fair. 
Deployment & Impact
Currently, Comunitaria's solution is being implemented with great success in the neighbourhood "Los Pajaritos" in Seville, working with more than 100 families (the poorest in Spain according to the National Institute of Statistics), and is being initiated the corresponding contacts with local commerce and associations in the neighbourhood of San Cristobal in Madrid. Impacts include:
Dietary habits.
The most vulnerable groups have access to inclusive food, which results in a healthier and more sustainable consumption habit.
The consumption of fresh food reduces the consumption of processed alternatives, which are more harmful to the environment due to the addition of chemical additives, packaging needs, greater distribution needs and production of more polluting waste.
Local commerce
Purchasing and distribution through local commerce eliminates the need to travel to the suburbs to make purchases with motor vehicles in large supermarkets. More frequent supplies reduce energy consumption for food preservation. In addition, CO2 emissions are reduced.
Local commerce benefits from a greater source of income, local wealth grows, thus stimulating job creation. The return to neighbourhood commerce acts on the root of the problem by breaking the cycle of poverty. The large food chains are extractors of wealth, local commerce recirculates it among its inhabitants.
Sustainability
Local electricity production promotes energy sovereignty as well as food sovereignty.
The new income that allows the purchase of fresh food has a renewable and sustainable origin.
Community impact
Neighbourhood residents are included and made aware of the technological and environmental advances that make cities more sustainable; they are part of the change.They return to their natural environment, increasing interactions and the feeling of community and belonging.
The printed currency and banknotes increase the sense of belonging to their community through identification.