Description
Artush Khachatryan, the Founder of a start-up from the EU-supported IRIS incubator in Armenia, has introduced an innovative approach to Armenian agriculture. Artush has been growing, distributing and selling new, non-traditional, high-value crops for three years now. Last year, he registered his company as a limited liability company.
Context
With support from the European Union, IRIS Business Incubator is a new Armenian institution stimulating the culture of entrepreneurship in Armenia, becoming a tool for the sustainable development of further generations of start-ups. IRIS Business Incubator supports Syrian-Armenian and local entrepreneurs to establish successful businesses by providing a unique full cycle of business support services, including coaching, mentoring, training and access to finance with grant and loan funds.
Artush Khachatryan, a successful resident of this IRIS business incubator in Armenia, brought a new and innovative approach to Armenian agriculture. Artush has been cultivating, distributing, and selling new, non-traditional, and high-value crops for 3 years already in his social enterprise. Last year he registered his business as an LLC. 
The goal of his business is the replacement of the traditional crops with new non-traditional ones in the Gegharkunik region. The new crops are mostly cabbage, such as broccoli, Brussels sprouts or kale, but also fennel, artichoke, blueberries and physalis. They give a wonderful harvest in the Gegharkunik region, but are mainly imported from different countries and sold at quite high prices in the Armenian market.
"I started studying the origin of new and expensive crops sold in Armenian supermarkets, the appropriate climatic conditions for their cultivation, the soil structure where they grow, the specific features which are needed to cultivate them and were wondering if it is possible to grow them in Armenia," said Artush.
Technical details & Operations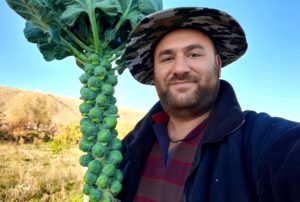 At first, Artush started growing these crops on his own, overcoming all the difficulties. Then, founding the "Sareri Bariq" Social Enterprise, he started helping the farmers of his community to grow them as well, providing them with appropriate seedlings.
Learning from friends about the possibility of IRIS BI, Artush decided to establish "Hoghi Baric" LLC, to acquire appropriate equipment and machinery for his own greenhouse, to be engaged in large-scale production of seedlings, as they are in great demand not only in his region now but also in other parts of Armenia. "Every year I provide free seedlings, medicines for plants, counseling to 10 families in my community, helping them to cultivate and sow the seedlings, and finally, I store the entire crop along with the crop/seedlings I grew by selling them to supermarkets, from where I get my income."
Artush thinks that a good entrepreneur in Armenia should be fully integrated into his/her business, be very comprehensive, and participate in the development of all branches of his/her business (marketing, sales, accounting, etc.), and of course, love whatever he/she does. In the future, his goal is to export the crops/seedlings.
Deployment & Impact
The main objectives of Hoghi Baric are:
– Increase the profitability of socially vulnerable individual farmers engaged in agriculture to increase their income;
– Provide them with relevant knowledge, skills, and experience on proper farming, ecologically cleaner crops/seedlings, the use of organic substances and fertilizer, and using water resources sparingly;
– Support the local farmers to access the market and to sell their products.
In mid-May 2021, Artush had already supported 30 vulnerable families in the south of Gegharkunik Province (Vardenik and Martuni communities) in the cultivation of different cabbage varieties. Each family is expected to earn at least 350.000 AMD (640 euros). The activity is based on the circular economy approach in introducing sustainable agricultural practices that benefit communities around Lake Sevan.