Description
The Kenya Red Cross Society (KRCS) set up a Remotely PIloted Aircraft System (RPAS) unit in early 2019. Possible use cases included search and rescue, risk mapping, videography and imagery and finally, cargo delivery. 
The first use case of KRCS RPAS is linked with the improvement of disaster preparedness. In other words, RPAS, due to its efficiency and high level of resolution, allows responders to have a clear vision of the risks and consequences of a disaster in view of adjusting crisis resolution. 
Regarding disaster response, drones can facilitate the development of highly detailed risk maps. This was proven during the pandemic where drones were used to map and identify potential Covid-19 hotspots in Nakuru and Mukuru. As a result, disinfections of specific areas were organised as well as community awareness actions regarding Covid 19. 
The same elements can be mobilized for community resilience. Indeed, after the occurrence of natural disasters, disaster assessments can put volunteers and community members at further risk. In that regard, RPAS allows a safe evaluation conducted on a remote basis, providing precise information. 
Finally, the mitigation of natural disasters constitutes one of the many uses of RPAS and its analysis component. Indeed, through data-collection either for agricultural or environmental purposes, RPAS  can provide KRCS' teams with information they could not gather otherwise.
Context
The Kenya Red Cross Society is a RED Cross RED Crescent organisation, auxiliary to the National and County government(s) with a wide variety of activities ranging from social and humanitarian action to health professional training, or social entrepreneurship. Kenya faces a variety of challenges caused by terrorism presence, ethnic strives as well as periodic environmental shocks. In response to these challenges the KRCS throughout its International Center for Humanitarian Affairs (ICHA) has developed an innovative way of tackling recent crises. The Remotely Piloted Aircraft Systems (RPAS) project is part of that dynamic and allows the National Society to improve every segment of its disaster management.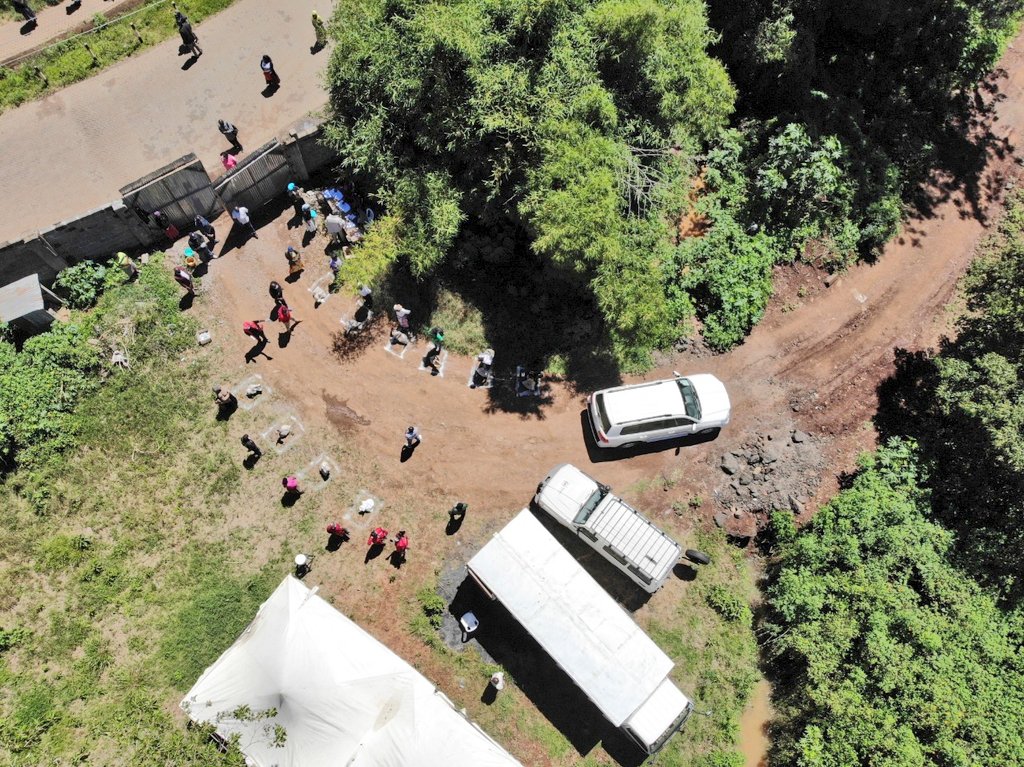 Technical details & Operations
KRCS presents 10 RPAS trained pilots to implement its programs:
Each mission requires 1 pilot in command in constant communication with 2 visual observers as well as with the Kenya Civil Aviation Authority (KCAA);

Standard operating procedures also demand that checklists be prepared prior to the mission regarding both flying and data processing software needed for the implementation of the activity. 
Finally, and given the diversity of drones used by KRCS, specific training is realised regarding each type of drone (mapping, spraying, etc.).
Deployment & Impact
The RPAS unit worked as part of the team contracted by the Food and Agriculture Organisation (FAO) during the Desert Locust invasion to assess the efficacy of control efforts, the impact of the invasion on agriculture, livestock and natural resource-based livelihoods. The team is also most recently part of the COVID-19 project in partnership with MasterCard foundation to facilitate disinfection and community awareness activities.
Budget:
The costs below indicate the initial start up costs for setting up the unit and asset purchases and do not indicate the costs of drone missions:
Assets (4 drones) = Approx USD 60,000

Training and SoP development = USD 30,000